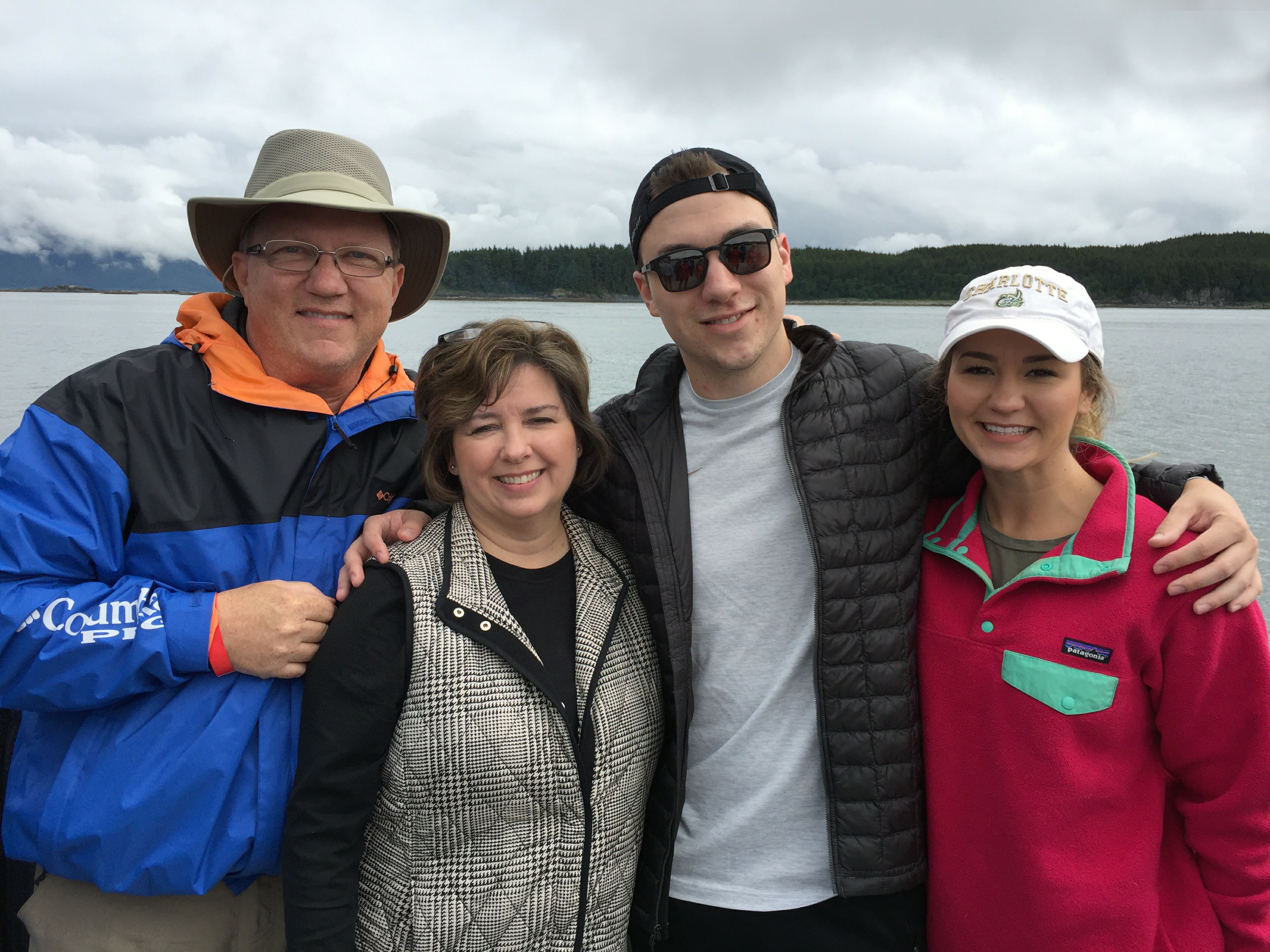 Jan & I met at Pilot Life Insurance Company and fell in love. She understands our client's frustrations with insurance, which is why she is so good at it. We are complete, diametric, opposites. I'm more visionary and she's more detailed - like a kite with a tail -  which together makes a smooth flight for you! We have made a great team over the years, with our strengths and weaknesses complementing each over. This 2020 year, we celebrate our 30th wedding anniversary and 23rd year of Belue & Associates, LLC.
From the beginning I asked the question, "why would anybody want to buy from me?" I set out from the start to determine that I would always tell clients the truth. A popular saying in business is, "the customer is always right." This might sound good, but the Bible says, "The heart is deceitful above all things, and desperately sick; who can understand it?" [Jer. 17:9]
We never asked the question if the customer is right or wrong. They simply come to us for help, and we seek to help them. Our model is Jesus Christ himself, who gave himself for his church. This is the highest possible standard there is, which is why we adopt it.
From the beginning, circa 1997 in May, we began to tithe 10% from gross towards church or church related or Christian related organizations. By grace, He has allowed us to do this until now. God be praised! We have never and will never ask a penny of our clients towards this end.
WHAT ABOUT THE NAME, "BELUE?"
If you are interested in names, Belue is a French name, from my Father's side, from Upstate South Carolina. We descended from the French Huguenots. 
My Father fought in the Battle of the Bulge with the 75th Infantry, under Montgomery in Belgium, where he was wounded, and met my Mother in Metz, FR, after the war. 
I recently went to France to meet my French family, and made a video of it. It features new and old photos and video.
OUR CLIENTS SPEAK [LET US SHARE YOUR TESTIMONIALS]
"I started with you as my insurance agent at the company where I worked for 28 years.  I worked at two other companies and took you with me as the insurance agent each time.  For the past 42 years, you have taken absolute care of my medical insurance, employee benefits, dental and life insurance needs; and now my Medicare supplements.  Mark, I can't thank you enough for your knowledge and direction and friendship."
Linda Swann, Mills River, NC
"He's my insurance broker through the company that I work for. He's our broker for all our employee benefit plans. He is compensated through the providers and not through us directly. I would recommend him because of his professionalism, knowledge, and customer service."
"Mark and Jan were like Johnny be good, they responded quickly to my questions and went above the average to correct/ and get me the best prices for out type coverage.  Whenever I have an issue, they take the time to help resolve the issue.  I would not think about changing agents."
"Belue & Associates assisted our new company in setting up a 401K plan. Belue & Associates work hard to find the best plan to fit into your budget, but also yield positive results after enrolling.  Mark Belue brings lots of experience to the table and is very knowledgeable of employee benefits.  He always makes himself available and gives you his full attention.  If a problem arises he works until it is resolved.  He partners with others in the industry that have proven experience which helps things go very smooth.  I have been using Belue & Associates since 2000 for various employee benefits.  When I have changed employers I have continued to use Mark as a resource for questions, discussions and a provider of employee benefits."
Paula Daniels, Hickory, NC
"Our company had unique needs and Mark Belue has been helpful for us over the years.  We trust his opinion because he listens to our needs and offers us multiple solutions.  He is more than patient to explain the specifics of policies as it pertains to our specific needs.  We had many questions and he is knowledgeable and can explain to us so we  were able to make an informed decision.  We are thankful to have met Mark and to have him looking out for us over several years. Mark Belue and his team was friendly and helpful from the start and we continue to have a relationship with them.  We were glad to find someone that we could explain our unique situation to and they were competent to get us the right product and change things when our needs changed.  We highly recommend Belue and Associates."
DJ Fullwood, Harrisburg, NC, Hickory, NC
"I am a recently retired engineer and was totally in the dark about medicare and all the supplements that were needed.  
Mark Belue met with me twice with total explanations of each plan and the additional choices of private insurance to close the loop holes. 
Mark explained all the companies that I could choose from, pros and cons, so I could make the choices that my would fit my budget best. Time has passed and all the choices I made with Mark's advice have made the transition cost effective for me and my wife.
I would recommend Mark Belue for any insurance needs, life, health or supplements.  He truly knows his business and uses it to help people."
Brad Taylor, Huntersville, NC,
"October is renewal time for our company health insurance. I have always and will continue to rely on Mark Belue's knowledge and experience in this area. With all the changes going on in our health insurance today---I feel truly blessed to have Mark Belue in my corner. There are no do's and dont's with Mark Belue. Make your appointment with him and the rest just falls in place. He has the best personality and there is no such thing as a stupid question. He can take the hardest most complicated things and break them down in terms I can understand and make a decision on. He gives me things to think about as far as comparisons and the advantages and the disadvantages of what we are looking at as far as coverage at the time. He has always gone above and beyond to help me both personally and professionally. My husband and I consider him a dear friend and an attribute to our company."
Don & Jackie Rudisill, Mt. Holly, NC, Southern Forest Products, Inc.
"Belue and Associates has been providing health and life insurance for our company since 2000. I have always know Mark Belue is an honorable man and always has had our interests at heart. I have had many companies offered insurance services to us for even less money but I have felt I can always trust them and their services. He has responded to our needs and questions rapidly since day one. He always a phone call away."
Waldo Pepper, Harrisburg, NC Aviation Maintenance Training Technologies, Inc.
"Really like your website. Thanks for all the help you have given DCC and me personally over the years. I really like the prayer section. I have always said that I never really worried a lot about having work over the past 30 plus years. GOD has always sent work our way.  That is just a plain fact because I am not smart enough to have accomplished what I have on my own. I pray that you and your family will continue to be blessed."
Kenneth Tucker, President, Denver Construction Co., Inc. Denver, NC
"Mark Belue has advised us at Gardner Machinery Corporation regarding our Employee Benefits since 1989 when he was working for another major insurance company and eight (8) years before Belue and Associates was founded in 1997.  Mark always responds to our many questions promptly and completely with a great deal of knowledge and patience.  He has always advised us carefully, honestly, and well.  Having his wife Jan to assist him is a blessing, for she has a great deal of knowledge about the business also and is able to attend to certain issues herself.  I recommend Belue & Associates to anyone needing assistance with Employee Benefits or personal insurance, or to anyone who just needs a friend."
Ramona "Mona" T. Gardner, Corporate Secretary, Gardner Machinery Corp.
Hello Mark!!
You are the best, sir!!
I had no idea how to start an appeal or if it would be worth it, on my own. 
I had no idea you would be interested in helping me!!
I realize this is not resolved yet, but I will forever be a huge fan of yours!! 
Thank you!!!
Karen Montgomery, Account Support Rep., DNPImagingcomm